IDSAutoshred provides reliable paper shredding and document destruction services in Red Bank, NJ. Call us and to book your shredding job today.
At IDSAutoshred, we emphasize security above anything else, striving to provide clients with reliable and efficient service, each and every time. That is why, our approach to document shredding takes place on-site at your Red Bank location. Whether you need a one-time shred job, or ongoing document shredding solutions, we provide flexible service around your needs, and of course come to your location to do so! No interruption in your workday means your employees can keep focused on their job duties without having to be pulled away to transport information off-site to a facility.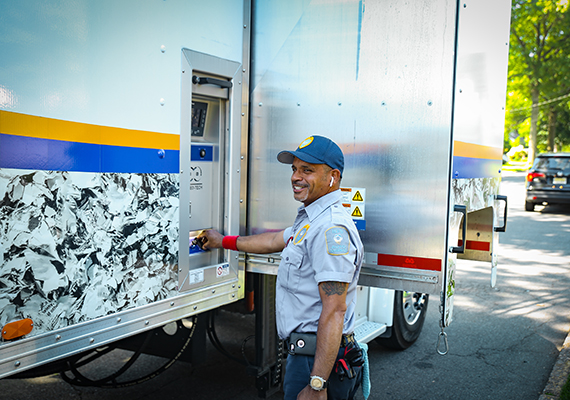 Why Document Shredding is Imperative
Document shredding is the only type of disposal that is 100% secure when it comes to protecting your information. If you want reliable shredding and privacy over your information, it is highly recommended you outsource this need to a professional company that is trained to perform quality, document shredding. This will ensure you are taking the right steps to safeguard your Red Bank business from the risks of theft and corporate espionage.
Companies of every size are consistently creating, sharing, and storing private documents on a regular routine. These may refer to documents such as bank statements, business contracts, medical records, strategic documents, etc. Regardless, all of these are bound to contain very personal and private content that shouldn't be exposed. Business espionage professionals consider trash a gold mine for finding appealing information that can be used to their advantage, which means tossing sensitive files into the recycling or trash bin presents a red flag and could leave you at risk to this unfortunate crime. Keep in mind that if your company is the victim of a fraudulent act, your reputation could be affected negatively as well.
The positive news? Implementing effective security practices like document destruction, is quite simple! Hire our skilled team to ensure your documents remain protected and free from exposure. Turn to IDSAutoshred as your trusted supplier of mobile document shredding services; you won't be disappointed!
Partner with IDSAutoshred for Your Document Shredding Requirements
Our team of qualified and trained professionals will gather up all sensitive documents from your Red Bank workplace, and immediately place them onto our truck where destruction will occur right away. We practice a very stringent strict chain of custody for ultimate security, and we are confident that this approach is safer than having to transport files off-site for shredding. Would you like to see how it all takes place? We encourage you to witness the entire process yourself! Documents are destroyed in a matter of minutes; feel confident in knowing your files have been shred when you watch it take place firsthand. After the shredding is completed, you'll receive documented proof that your content has been shred properly, securely, and done so according to important privacy legislation that states how documents are to be disposed of. Keep this Certificate for future reference!
Additional Benefits:
IDSAutoshred will help you achieve full compliance with information privacy laws and regulations.
Limit business costs and save consider time when you opt for professional shredding. Your employees can remain focused on their job tasks and not on shredding paper!
Never deal with possible paper jams or broken shred machines. No need to keep an office shredder in-house!
All documents are stored in a locked console or bin until it is collected – access is only granted by key.
We don't ask that you sort, remove paper clips, staples or any type of binding – we shred through it all! Labels and stickers too.
All shredded paper is recycled.
Lockable Collection Containers Keep Documents Protected
When you decide on a regular shredding program, you are supplied with lockable security consoles or rolling bins, to securely dispose your documents in prior to shredding. These can be situated throughout your place of business however you see fits; typically, in high-traffic areas. Employees can quickly and conveniently, dispose of files they no longer wish to keep in a manner that is 100% protected from curious passersby. A bonded, insured IDSAutoshred driver will provide friendly and efficient service from the moment we collect your documents, through until the destruction. All consoles and bins are replaced following the shredding process. We take care of everything, so you don't have to trust any other individual outside our representative.
Select from Consoles or Rolling Bins:
Clients can opt to use our consoles or rolling bins for the disposal of sensitive documents. Both have their own advantages, and both are entirely secure; it's best to consider the current space you have available in your office first, along with your approximate budget, and the number of documents you have shred regularly. If you'd like some guidance on which option would be most fitting, we are more than glad to lend a hand, determining what route we recommend.
Consoles
Consoles measure approximately 36″H x 22 3/4″W x 15 3/4″D to 27″H x 13″W x 17″D and have the capacity to store up to 50 pounds of paper.
Rolling Bins
Rolling bins are great if your business typically deals with many confidential documents. Rolling bins are available in a 95-gallon size.
On-Site Document Shredding – How Does it Work?
On-Site shredding provides additional security over the status of your documents. Why? You aren't required to move documents to an off-site facility, which means they remain in your possession under lock and key until our specialists arrive to provide shredding services. In this sense, you save considerable time and money as you can continue focusing on business practices without disruption. Many Red Bank businesses enjoy the advantages that come with this option and prefer it over off-site shredding.
IDSAutoshred supplies ongoing shredding and recycling programs for your Red Bank organization that are entirely tailored around your unique needs. We'll work with you to customize this collection schedule ensuring it is in line with your predetermined budget and document disposal patterns. Once your scheduled date arrives, we'll be at your location immediately to get the shredding process going as fast as possible.
Reach out to us today if you're interested in learning more about document shredding services in the Red Bank area.
We are proud to be AAA Certified from The National Association for Information Destruction (NAID).
NAID AAA Certification verifies the qualifications of certified information destruction providers through a comprehensive scheduled and unannounced audit program. Learn how we can help you save money with our effective document shredding plans.
We Value Our Customers!
We're here to help your business and personal assets through efficient processes, mobile technology, & great customer service. We offer 10% discount in your initial shred.
Our goal is to provide excellent customer satisfaction using high technology and good old fashion customer care.
Peter Levitt, CEO, IDSAutoshred