What to Shred
Every business produces confidential information regarding its employees, clients, or assets. As such, protecting your business' secure data from falling into the wrong hands is not just a good business practice, it's the law.
Protect your company and its assets.
When these laws are ignored, a business exposes itself to the dual risk of criminal exploitation and civil prosecution.
IDSAutoshred protects your data and confidential information from ever falling into the wrong hands through our secure document destruction process.
IDSAutoshred is your local leader in on-site document destruction.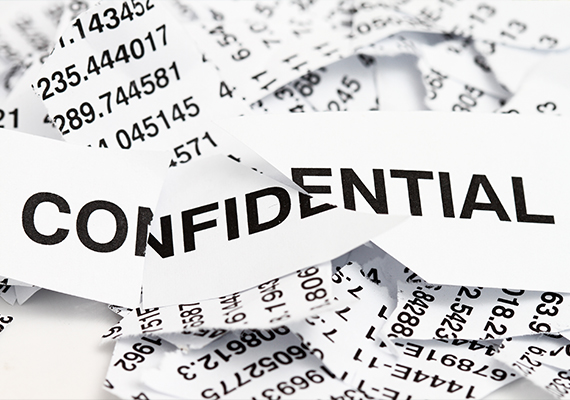 Protect Your Data And Confidential Information
There is no greater fear in today's business than the theft or breach of information. Just ask Sony, Equifax, the NSA or FaceBook. Furthermore, the timely destruction of old information can protect your company from the dreaded subpoena of "…any and all documents in your possession that relate to…" In just a few easy steps, you can be assured that your information is dealt with quickly, safely and securely, knowing that you and your customers' information is completely destroyed!
Client Data
Business plans
Canceled checks
Computer reports
Credit card numbers
Executive correspondence
New product information
Obsolete collateral
Photographs
PresentationsPrice/inventory lists
Proposals and quotes
Proprietary documents
Receipts/invoices
R&D files/data
Supplier Records
Files and Records
Account records
Activity Sheets
Applications
Appraisals
Audits
Bank statements
Budgets
Competitive information
Computer records
Contracts
Correspondence
Diligence files
Disciplinary reports and promotions
Fax machine ribbons
Financial records
Insurance records
Intellectual property records
Internal memos
Invoices
Legal documents
Manuals
Market research
Marketing material
Obsolete contracts
Official notices
Payroll records
Performance Appraisals
Personnel files
Phone records
Planning documents
Price lists
Purchase receipts
Sales forecasts
Strategic Reports
Tax records
Training information
X-rays
Personal Information
Addresses
ATM receipts
Bank account information
Bank statement
Brokerage account information
Canceled & voided checks
Credit & debit card numbers
Credit reports and histories
Drivers' license numbers
Employee pay stubs
Employment records
Health and safety issues
Insurance policy data
Investment documents
Medical and dental records
Passport number
Resumes
Social Security number
Telephone number
Tax forms
Travel itineraries
Used airline tickets
Non-Document Destruction
CD-ROMs/CD-Rs/DVDs
Computer Backups
Microfiche
X-Rays
Videotapes
Cassette Tapes
Casino Chips
Product Samples
Prototypes
Hard Drives
Clothing & Uniform
We are proud to be AAA Certified from The National Association for Information Destruction (NAID).
NAID AAA Certification verifies the qualifications of certified information destruction providers through a comprehensive scheduled and unannounced audit program. Learn how we can help you save money with our effective document shredding plans.
We Value Our Customers!
We're here to help your business and personal assets through efficient processes, mobile technology, & great customer service. We offer 10% discount in your initial shred.
Our goal is to provide excellent customer satisfaction using high technology and good old fashion customer care.
Peter Levitt, CEO, IDSAutoshred