Are you relocating in the near future, using a storage facility for old documents or have suddenly realized that your office is becoming a clutter zone? Documents can pile up quickly causing mess and disorganization. Whether you are moving and need to dispose of unnecessary documents, or you've decided a major clean-out is necessary, IDSAutoshred will look after the shredding of your documents, immediately upon request.
Not sure what exactly you should be shredding? Shred everything that is no longer relevant to your business and/or documents that have passed their retention period. Most business documents contain personal or private details that could be threatening to your security if exposed to the wrong individual. With that in mind, they should all be disposed of through professional document shredding. In doing so you will reduce your liability and help to protect your general security.
Our experienced team will guide you through the process including:
How to prepare for shredding day
What items to shred
What the expected cost is
Scheduling your appointment.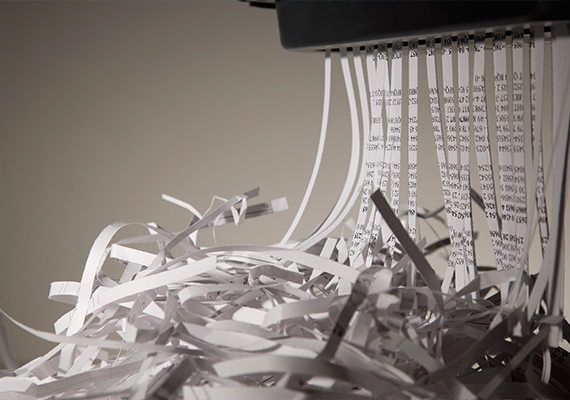 Document Shredding Services on Request
Are you in a need of a fast and secure way to dispose of sensitive documents that have reached the end of their retention period? Whether you're relocating to a new office, or you've noticed your workspace getting cluttered with paperwork, our one-time purge solution makes getting rid of these documents a breeze. You can have peace of mind in knowing that our shredding services keep your sensitive information secure throughout the entire process; protecting your confidentiality. We'll provide you with a Certificate of Destruction following the shredding process, which indicates exactly how and what was shred, to keep for your own records and future reference. There are no long-term commitments or surprise fees when you choose a one-time purge service; simply call our team when you feel you could benefit from a purge!
You Decide When to Shred
Service is as flexible as you need! You decide exactly the time and date you'd like a purge done and we will arrive in a timely manner to get the job done. We work efficiently and as specialists in the industry our representatives will be in and out of your workplace with very little disruption so your focus can remain on your daily business duties. Just call us when you are ready, and we will be there as quickly as possible to look after your documents. You only pay to have your documents shred when it's convenient for you.

Have Questions?
If you're new to professional shredding, you likely have loads of questions. We are more than happy to speak to you and discuss your needs, concerns, and budget. Please don't hesitate to contact our team for more detailed information on how our one-time document shredding solutions work. We can provide you with a quote during our conversation and/or schedule your first purge at a date that's best for you. You can even take advantage of next day service Monday through Friday!

We will ensure that you comply with the law
Federal and state legislation mandates the secure disposal of consumer data. Compliance with these privacy policies isn't just good business practice, it's the law!
Preparing for a One-time Purge
Preparing for your one-time purge service really doesn't require much at all. Simply have those documents set aside or boxed separately so we can identity what requires secure destruction.  Feel free to place documents in boxes, garbage bags or any other containers you have if you prefer to organize them before we arrive. While we do not provide collection bins with this service, they are available at no extra cost when you choose to adopt a scheduled shredding service with us. There is no need to remove staples, bands, or file fasteners of any kind, as our industrial shred equipment will shred through everything with ease.
When Might You Use a Purge Shredding Service?
A one-time purge service usually involves a significantly high volume of documents, and it normally only takes place occasionally such as once or twice a year. As mentioned, a purge might be the perfect option when there are endless piles of paper to shred or even a full storage room.  Both situations can lead to red flags in relation to security; storing these records for too long can contribute to files going missing or worse, potentially stolen.
Shredding purges usually take place:
During end-of-year or end-of-quarter clean-outs when files are no longer of significance or have expired
When businesses don't require regular shredding, but can still benefit from the occasional service
When a company or family is moving or is in desperate need of a major clean-out
We are proud to be AAA Certified from The National Association for Information Destruction (NAID).
NAID AAA Certification verifies the qualifications of certified information destruction providers through a comprehensive scheduled and unannounced audit program. Learn how we can help you save money with our effective document shredding plans.
We Value Our Customers!
We're here to help your business and personal assets through efficient processes, mobile technology, & great customer service. We offer 10% discount in your initial shred.
Our goal is to provide excellent customer satisfaction using high technology and good old fashion customer care.
Peter Levitt, CEO, IDSAutoshred