If you're a business in New Jersey considering the benefits of outsourcing your document shredding needs, we are confident that our services will more than meet your security expectations. If you're tired of using that office shredder that continuously breaks down, now is the time to make the switch. Office shredders are not only a nuisance, but they require employee time, and they leave documents in strips which can easily be placed back together with the right determination.
Regular Document Shredding with IDSAutoShred
When you make the decision to partner with IDSAutoShred, we make the document shredding process easy and seamless for our clients. Based on your level of document storage and disposal, you decide whether you require ongoing shredding services, which is by far the most practical solution we offer. Ongoing document shredding means you aren't required to book appointments each time your documents begin piling up; a pre-determined collection schedule allows you to continue focusing on important business matters that contribute to the success of your business, not distract you from it.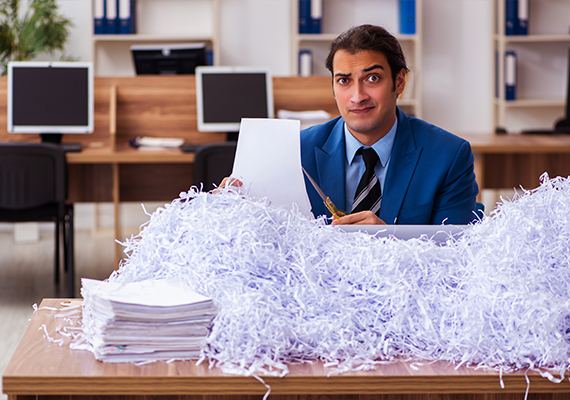 Scheduled Shredding for Quick and Convenient Service
When you decide on our on-going shredding service, you can have peace of mind in knowing that our team will provide timely and friendly service with each visit. Our shred technicians are highly skilled individuals who experience thorough training in privacy protection and strict processes that maintain your confidentiality from the moment records are collected, through until the shredding process itself.  We'll service your shredding needs on a predetermined date and time to work around your busy schedule. Whether you decide on weekly, bi-weekly, or monthly shredding, we will happily do it all; we work around your preferences. IDSAutoShred has your ongoing document shredding needs, totally covered.
Enhanced Security Measures and Efficient Document Management
Ongoing regular service means you don't have to worry about documents getting lost or stolen; we will help to keep your office free of mess and clutter by eliminating old documents that no longer require storage or are of no relevance to your operations any longer. You have enough responsibilities on your plate as a business owner; the destruction of your sensitive documents shouldn't be one of them. Let our professionals stay on top of your document shredding needs with cost-effective and reliable, on-going service. Don't waste any more time trying to keep documents organized and secure; we offer collection containers exactly for this purpose. From "under the desk" containers to large carts and bins, we have a variety of lockable bins to suit your needs. Place them throughout your office in high-traffic areas to encourage secure disposal by staff.
Stay On Top Of Your Records
If you've recently found you're having a challenging time staying on top of managing these records accordingly, we are more than happy and willing to help! You will greatly appreciate the convenience of our on-going shredding services because you'll know ahead of time exactly when our specialists will be collecting your documents for destruction. No need to make plans or even worry about it; we've got you covered and prepared, so you don't have to even think about it. We'll work with you to determine a collection schedule that is appropriate for your day-to-day routine; customizing a collection schedule around your agenda.
We Provide Free Locking Containers To Our Scheduled Customers
IDSAutoshred makes available to our customers locking containers for scheduled services. Our recurring scheduled Clients, will be supplied with either locking consoles or locking rolling bins. Keys are supplied for the containers, in the event material needs to be retrieved.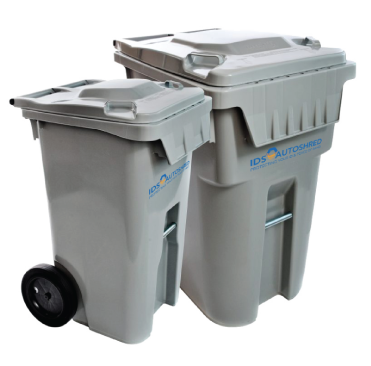 Document Shredding that Keeps Your Business Compliant
Privacy legislation is in place to ensure that sensitive information remains secured while in storage and through until destruction. As a business owner you are legally responsible to sustain confidentiality over customer, employee and business information. Always be sure your staff are properly trained and knowledgeable in these processes and that you continue to implement secure shredding services to stay compliant and protected from outside threats. Not only is information theft a risk, but you could be found liable if a fraudulent crime occurs because of your failure to shred documents. The consequences are simply not worth it!  Our shredding is 100% reliable and we are NAID AAA Certified; the highest level of accreditation in the shredding industry. Our team will help keep you protected and stress-free throughout the entire process.
What Does Regular Document Shredding Include?
Free lockable bins and containers designed specifically to store your sensitive documents in before destruction begins.
Qualified and skilled shredding professionals who are drug-tested and security checked for your optimal security.
On-site shredding services means there's no need to travel off-site with your sensitive material. We come to you and perform the entire process at your location, using our commercial grade shred trucks, equipped with industry leading shred technology.
A Certificate of Destruction is supplied to each client following service
All shredded content is then collected for recycling purposes.
We are proud to be AAA Certified from The National Association for Information Destruction (NAID).
NAID AAA Certification verifies the qualifications of certified information destruction providers through a comprehensive scheduled and unannounced audit program. Learn how we can help you save money with our effective document shredding plans.
We Value Our Customers!
We're here to help your business and personal assets through efficient processes, mobile technology, & great customer service. We offer 10% discount in your initial shred.
Our goal is to provide excellent customer satisfaction using high technology and good old fashion customer care.
Peter Levitt, CEO, IDSAutoshred