IDSAutoshred offers reliable, customizable document destruction and paper shredding services in Trenton, NJ. Call us to book your next shredding job!
At IDSAutoshred, security is our top priority, especially when handling the sensitive information and documents entrusted to us by our clients. That's why our shredding services take place on-site at your location in Trenton, where you can watch your documents be destroyed in real time. No matter whether it's a one-time purge or a recurring shredding schedule, our shredding procedure is designed to handle any client request. We come to you, so your workday will be able to continue without interruption. You'll be able to focus on what you do best while relaxing in the knowledge that your sensitive documents are being disposed of responsibly and confidentially by qualified industry professionals.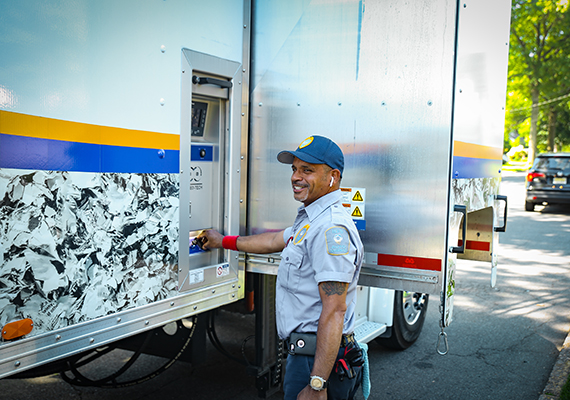 Why Document Shredding is a Must
Document shredding is the only method that is 100% guaranteed to protect and secure your discarded information. An office shredder simply isn't designed for the rigorous shredding standards mandated by industry policy. Additionally, trying to shred volumes of documents in-house at your Trenton company isn't time or energy efficient, and can cost more in employee labor than it needs to. Instead, trust your shredding to industry professionals who come equipped with the right machinery and training to shred your documents in full regulatory compliance with current privacy mandates.
Bank statements, medical records, employee payrolls, client data, and confidential company strategies all regularly cross desks, but when they're no longer needed, the safe disposal of these forms is essential to prevent accidental exposure. Single-strand shredding isn't enough to dissuade thieves from digging through your trash, and once your documents have been discarded into a garbage can, they become a liability to your company. When confidential information is improperly disposed and stolen or abused as a result, the company in question could see a massive blow to both reputation and pocketbook.
Don't take that chance. Adopting an effective strategy of document destruction is as easy as picking up the phone. Our skilled team of destruction specialists will ensure that your documents are promptly and completely destroyed before they ever leave your parking lot. You'll even receive a Certificate of Destruction for your records to verify that your documents were disposed according to policy standards.
Trust Your Document Shredding Requirements to IDSAutoShred
IDSAutoshred is AAA Certified by the National Association for Information Destruction, which means that our shredding services are guaranteed to be compliant with federal and state legislation for the disposal of customer information. Every member of our shredding team has gone through meticulous confidentiality and procedural training, ensuring that your documents will never be put at risk during any stage of the shredding process. Since our trucks shred all documents on-site, there's no risk of interception or accidental loss on the way to a facility. In fact, you're welcome to watch the shredding process as it happens, personally verifying that your documents have been correctly disposed.
Extra Benefits:
10% discount for new customers
Full compliance with privacy laws and regulations regarding information destruction
Save time sorting; paper clips, staples, and binding can all go directly into our shredders
Never compromise on security; we provide locked consoles to hold papers prior to shredding
Save money and employee effort by outsourcing to professionals
We recycle all shredded paper
On-Site Shredding for Security and Accommodation
We regularly hear from our Trenton clients how convenient the process is from start to finish. You won't need to coordinate a secure method of transportation for your documents, since they'll never leave company property (not in readable form, anyway!). You'll be able to focus on business uninterrupted if you so choose, as we'll handle everything from collection of the documents to the return of any locked consoles for continued use. For the height of convenience without compromise to security, on-site shredding is far and away the most popular choice of all our services.
Regular Shredding? We've Got Lockable Containers to Keep Documents Safe
Some businesses handle sensitive information on a day-to-day basis and request regularly scheduled shredding appointments. For this service, we'll provide you with secured, office-friendly consoles or locked rolling bins. These can be used in the same way as a normal garbage bin, but, thanks to the locking mechanisms, will make sure that access to the documents they hold is restricted only to our certified shredding staff.
On shredding day, our insured and bonded staff will collect the bins, securely empty them into our shredding truck, and replace them for continued use. If they are no longer needed, we'll load them up and transport them back to our facility.
When deciding which bin option would be best for you, consider the space available in your office, the volume of papers you expect to handle, and the budget you have in mind. If at any point you find yourself confused or unsure of which option would be best, our staff are standing by to offer professional advice to help you make the best decision for your company.

Console Options
36" Console holds up to 90 lbs of paper
27" Console holds up to 60 lbs of paper
Sleek and unobtrusive
Designed to compliment existing office furniture
Rolling Bins
65-gallon model holds up to 180 lbs of paper
95-gallon model holds up to 280 lbs of paper
Heavy-duty construction
Designed to hold bulk amounts of documents
IDSAutoshred is proud to offer our clients unparalleled service, working with them during every stage of the shredding process to make sure their unique needs are met. No matter your budget or schedule, we'll coordinate with you to customize your shredding appointment. On your shredding day, our team will promptly collect your sensitive documents and see to it that they are thoroughly destroyed before they ever leave the appointment location.
For more information on our document shredding services in Trenton, contact us online or give us a call at (877) 886-4732.