IDSAutoshred provides reliable paper shredding and document destruction services in Toms River, NJ. Call us and to book your shredding job today.
As a locally-owned company, IDSAutoshred is proud to establish our headquarters in Toms River. We offer our mobile shredding service to the local business community and throughout Ocean County. We safeguard New Jersey businesses against fraud and identity theft by destroying confidential paperwork once it is no longer needed. Our years of experience and training have helped us grow into one of the premier shredding companies in the county and state. Keep it local, by calling our office to arrange your next paper shredding service at (877) 886-4732. Our helpful staff will be pleased to arrange on-site shredding at your home or office.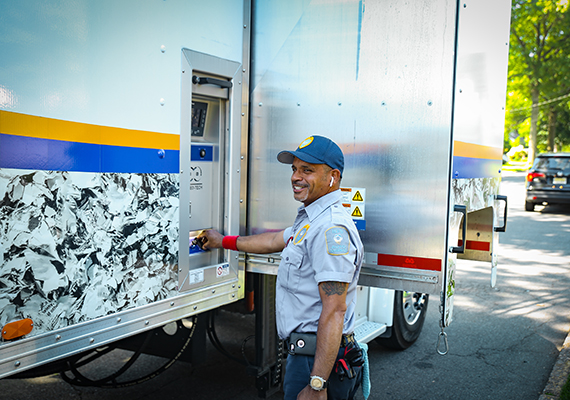 Mobile Shredding in Toms River NJ
IDSAutoshred maintains an entire fleet of specialized paper-shredding trucks.  Our mobile shred trucks can handle any volume of paper you might have.  The rugged equipment easily destroys reams of paper, file folders, including staples and paperclips.  Best of all, since we are mobile, we come directly to your location.  For the ultimate in document security, all your paper files are completely destroyed before we leave your Toms River property.  Call us today to schedule a visit.
Industry Certification
It is reassuring to know we have achieved the highest level of certification in the industry.  IDSAutoshred has obtained prestigious AAA Certification from the National Association for Information Destruction (NAID).  This confirms we have met an extremely stringent set of procedures and qualifications.  A third-party association has verified our practices and acknowledges we have met their criteria for confidential information destruction.  NAID regularly conducts unannounced audits and inspections of our shredding operation.  We take data privacy extremely seriously.  Our certification shows our commitment to the shredding industry.  If you are serious about security, then contact IDSAutoshred for your next shredding service.
1-Time Purge Shredding in Toms River
Our robust shredding equipment can handle any volume of paper for quick and secure destruction. If you have accumulated banker boxes of paper files, then contact us to arrange for our confidential shredding service. It is an excellent opportunity to empty filing cabinets of outdated files that should be destroyed. Free up office storage space by shredding years-worth of unneeded files. Don't risk a data breach by discarding unused files in the garbage or dumpster. There is only one way to be completely certain your information has been disposed of properly. Schedule a convenient visit from our shredding truck.

Home Shredding for Residents of Toms River, New Jersey
Are you spending hours feeding paper into a personal shredding machine, one sheet at a time? There is a better way! IDSAutoshred now offers home-based shredding service to residents of Toms River. Our mobile shred truck will come directly to your home or apartment to destroy your sensitive information. The paper destruction takes place at your residence, before our truck leaves your premises. For complete peace of mind, we invite homeowners to watch the entire process. We even issue a Certificate of Destruction proving that shredding has taken place. Don't risk identity theft, schedule your shredding service today.

We are proud to be AAA Certified from The National Association for Information Destruction (NAID).
NAID AAA Certification verifies the qualifications of certified information destruction providers through a comprehensive scheduled and unannounced audit program. Learn how we can help you save money with our effective document shredding plans.
We Value Our Customers!
We're here to help your business and personal assets through efficient processes, mobile technology, & great customer service. We offer 10% discount in your initial shred.
Our goal is to provide excellent customer satisfaction using high technology and good old fashion customer care.
Peter Levitt, CEO, IDSAutoshred