IDSAutoshred provides reliable paper shredding and document destruction services in Stafford, NJ. Call us and to book your shredding job today.
From Mud City to Manahawkin, and Mayetta to Cedar Run, IDSAutoshed offers shredding services throughout Stafford Township, New Jersey. We are a team of industry professionals providing our customers with secure information destruction services. We work with both commercial and residential customers throughout Stafford Township. Our document destruction service guarantees your privacy and security. It's easy to schedule destruction services, just call our local office at (877) 886-4732.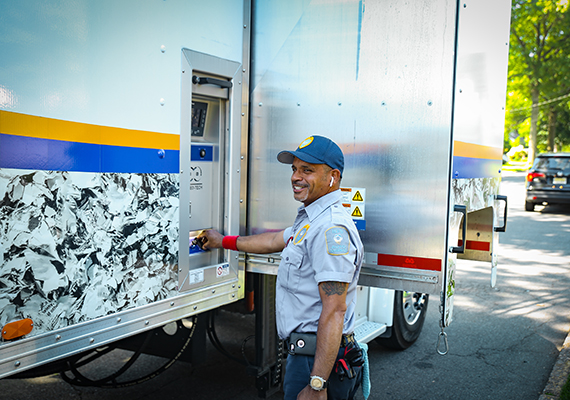 Document Shredding Options in Stafford, NJ
If all you need is a one-time purge, we will be pleased to take care of this you. We will dispatch one of our high-tech mobile shredding trucks to your Stafford location. Regardless of your paper quantity, we will stay until the job is complete. Alternately, if you would benefit from a regularly scheduled shredding service, our team can recommend a program to fit your requirements. We will install a locking container at no charge to you. Our truck arrives according to a regular schedule to empty the contents and shred securely. Whether 1-time or ongoing, IDSAutoshred provides convenient options to protect your information.
Why Partner with a Professional Document Shredding Supplier?
There are far more important jobs you should be focusing on that don't involve standing in front of a shredding machine, feeding in papers a few at a time. Our industrial-rated shredding equipment can take care of large volumes of paper all at once. Even better, our robust equipment can handle staples, paperclips, hanging file folders, accounting ledgers, etc. Best of all, with a professional service, you don't have to dispose of the shredded bits of paper. We take care of removing and recycling all paper. Reduce the time and aggravation involved with in-house shredding. Consider outsourcing to a professional shredding company like IDSAutoshred.
Shredding for Homeowners in Stafford, New Jersey
Businesses and corporations aren't the only one that need paper shredding. All residents of Stafford collect confidential documents over time: tax records, receipts, utility bills, prescriptions, etc. It is critical that sensitive material be disposed of in a secure manner. Don't allow these files to pile up or end up in the trash. Papers with your personal information are a gold mine for identity thieves. If you have accumulated a stack of old documents, then call IDSAutoshred to arrange for secure shredding. We will dispatch our mobile shred truck to visit your Stafford home or apartment.

Shredding for Stafford Businesses
IDSAutoshred provides as scheduled, on-going shredding services as well as one-time bulk shredding services for all businesses throughout the Stafford Township. Scheduled services are ideal for business owners to reduce liability and maintain compliance with New Jersey Privacy Laws. There is no upfront cost for our locking containers. You only pay for the shredding service itself. We'll work with you to determine an appropriate mix of bin quantity, placement, and service frequency. For document shredding that is cost-effective and performed at your location, trust the experts at IDSAutoshred.
We are proud to be AAA Certified from The National Association for Information Destruction (NAID).
NAID AAA Certification verifies the qualifications of certified information destruction providers through a comprehensive scheduled and unannounced audit program. Learn how we can help you save money with our effective document shredding plans.
We Value Our Customers!
We're here to help your business and personal assets through efficient processes, mobile technology, & great customer service. We offer 10% discount in your initial shred.
Our goal is to provide excellent customer satisfaction using high technology and good old fashion customer care.
Peter Levitt, CEO, IDSAutoshred