IDSAutoshred provides reliable paper shredding and document destruction services in Plumsted, NJ. Call us and to book your shredding job today.
Count on IDSAutoshred to provide confidential, on-site document shredding in Plumsted. One of our mobile shred trucks will come directly to your home or office. For maximum security, all paper shredding is completed before we leave your premises. Whether you need a single service to clean out files from your home or you prefer ongoing monthly service, trust IDSAutoshred for your secure shredding. To have your private or business records professionally destroyed, give us a call. We will be pleased to help.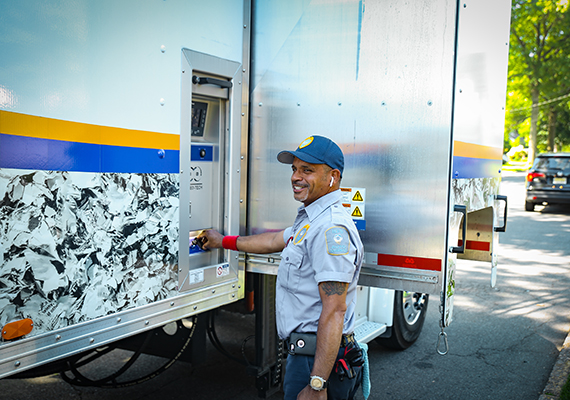 We're a Trusted Choice for Your Shredding Project
Our pricing is fair and up front. Simply call us for a quotation and appointment. We will fully explain how our service works so you can choose the correct service for your needs. Choose a date and time that fits your schedule. It is easy to set up shredding for your office or residence
On-Site Shredding for Maximum Confidence
Seeing is believing. Your documents will be completely destroyed while you watch. It's the only way to truly know your paper files have been shredded. Our high-tech trucks even have video cameras inside so you can watch your sensitive papers feeding through the shredding equipment. We welcome our clients to witness the process. Before we leave, we will provide you with a Certificate of Destruction to prove that the material has been shredded.

Environmentally Friendly Shredding
Rest assured, all shredded paper is fully recycled. The shredded bits are compressed into a giant bale of paper. The bales are sent directly to a pulp mill for recycling. The recycled paper is then transformed into new paper products like paper towel, drywall paper, and recycled copy paper. Choose the shredding company with an environmental conscious. Choose IDSAutoshred.

Residential Shredding in Plumsted
Our residential shredding service protects your personal information. If you have old tax returns, pay stubs, bank statements, or utility bills, then don't risk throwing them in the garbage or recycling. Any personally identifiable information can be a goldmine for identity thieves. Contact our New Jersey office to schedule a visit from our mobile shred truck. No quantity is too large or small. Our powerful shredding equipment will destroy your old paper records while you watch.

We are proud to be AAA Certified from The National Association for Information Destruction (NAID).
NAID AAA Certification verifies the qualifications of certified information destruction providers through a comprehensive scheduled and unannounced audit program. Learn how we can help you save money with our effective document shredding plans.
We Value Our Customers!
We're here to help your business and personal assets through efficient processes, mobile technology, & great customer service. We offer 10% discount in your initial shred.
Our goal is to provide excellent customer satisfaction using high technology and good old fashion customer care.
Peter Levitt, CEO, IDSAutoshred