IDSAutoshred provides reliable paper shredding and document destruction services in Pleasantville, NJ. Call us and to book your shredding job today.
IDSAutoshred offers secure shredding services in Pleasantville and nearby communities of Absecon, Northfield, and Linwood, in Atlantic County, New Jersey.  We are serious about confidentiality and privacy.  By shredding unneeded documents, residents of Pleasantville can reduce the chance of identity theft.  And businesses can avoid hefty fines by ensuring compliance with New Jersey State privacy laws.  For the highest level of security, contact IDSAutoshred to schedule your next shredding service (877) 886-4732.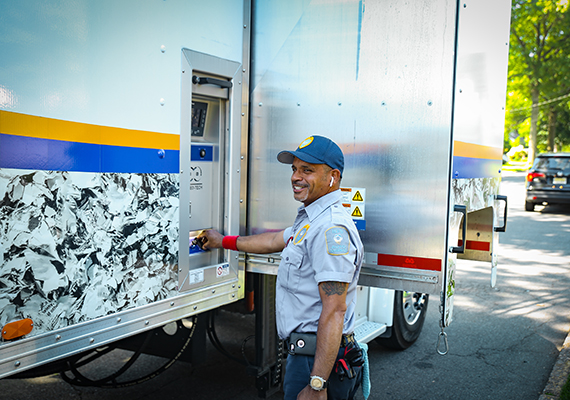 Mobile Shredding in Pleasantville
Mobile shredding means that we come to you. Our industrial-grade shredding equipment is built right into our truck. Our mobile shred truck will come directly to your Pleasantville home or office. We can handle any volume of paper in a matter of minutes. All shredding takes place in the parking lot or curbside. Your documents and records are destroyed before our truck ever leaves your premises. Since our equipment is extremely robust, there is no need to remove paperclips, file folders, or stapes. Upon completion of your shredding job, we will issue a Certificate of Destruction as your proof of compliance. It's easy to schedule one of our shredding trucks, just contact our friendly staff.
Pleasantville Hard Drive Shredding
We shred more than just paper. In fact, a single hard drive can contain vastly more information than a box of paper files. When your PC or laptop has reached end-of-life, be sure to remove the hard drive so it doesn't fall into the wrong hands. But erasing data from a disc drive is no longer sufficient. The only way to truly know the data is inaccessible, is to physically destroy the HDD (Hard Disc Drive). In keeping with our mandate of information destruction, IDSAutoshred now offers HDD shredding. Our heavy-duty equipment is suitable for any quantity of disc drives, back-up tapes and other electronic storage media.
Scheduled Shredding in Pleasantville, New Jersey
Beyond a 1-time bulk shredding, many Pleasantville businesses generate paper on a daily basis that needs to be kept safe. Our regularly scheduled shredding service is perfect for maximum data security. We provide free locking containers for our regular customers. Your staff simply deposits their paper files in the secure cabinet. We arrive on a pre-determined schedule to empty the container and shred the contents. It couldn't be any easier. Speak to one of our knowledgeable staff to determine the right mix of container size, quantity, placement, and frequency. We will be pleased to recommend a custom-tailored solution for your business environment. Our pricing is fair and upfront. Our service is timely and secure. Consider scheduled shredding from the industry leaders at IDSAutoshred.

We are proud to be AAA Certified from The National Association for Information Destruction (NAID).
NAID AAA Certification verifies the qualifications of certified information destruction providers through a comprehensive scheduled and unannounced audit program. Learn how we can help you save money with our effective document shredding plans.
We Value Our Customers!
We're here to help your business and personal assets through efficient processes, mobile technology, & great customer service. We offer 10% discount in your initial shred.
Our goal is to provide excellent customer satisfaction using high technology and good old fashion customer care.
Peter Levitt, CEO, IDSAutoshred