IDSAutoshred provides reliable paper shredding and document destruction services in Middletown, NJ. Call us and to book your shredding job today.
IDSAutoshred has a fleet of mobile shred trucks operating throughout Middletown Township. We shred in communities including Belford, New Monmouth, Leonardo, Navesink, Fairview, and Lincroft. Count on us to bring our shredding service right to your front door. Both business owners and homeowners can take advantage of our mobile shredding service. Simply call our office and we will dispatch a shred truck to securely destroy your sensitive paperwork.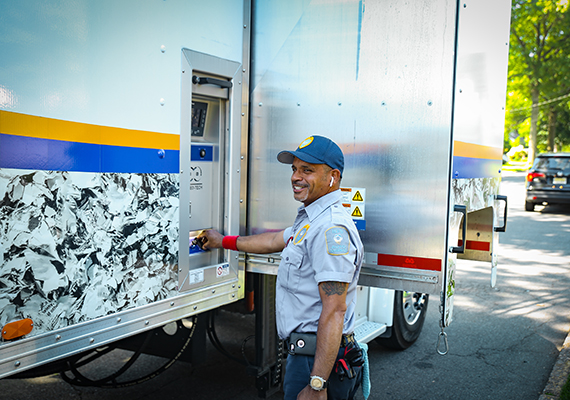 1-Time Shredding in Middletown NJ
The longer you keep unneeded files hanging around, the greater your risk of a privacy breach. If you have a backlog of old files, then our one-time shredding service is perfect for you. Simply collect all your paperwork in one place. Fortunately, there's no need to remove clips, hanging file folders, elastics, or staples since our equipment is industrial strength. In fact, our equipment can shred 300lb of paper in a matter of a minutes. Regardless of your paper volume, we'll keep shredding until the job is complete. As proof of service, we issue a Certificate of Destruction for your records. It has never been easier to schedule shredding in Middletown!
On-Going Shredding Services in Middletown
For businesses that generate paper on a day-to-day business, it is critical to securely capture and store sensitive documents once you have finished with them. IDSAutoshred has a solution. When your office signs up for our scheduled shredding plan, we will provide a locking collection console for your staff to discard their documents. These papers stay away from prying eyes until your next scheduled shredding day. Our trained staff will empty the container and securely destroy the contents with our high-volume shredding equipment. We arrive like clockwork on the pre-scheduled day. And, of course, all shredding is completed before we leave the premises.
Middletown Residential Shredding
Homeowners and residents of Middletown can now take advantage of our residential shredding service. If you have confidential paperwork that need to be destroyed, just call our office to arrange for an on-site visit. We will drive our mobile shred truck into your Middleton neighborhood and shred your documents under your watchful eye. The process is quick and affordable. Don't become a victim of identity theft, destroy your documents using a professional service.

Hard Drive Shredding
We shred more than paper! Since most information lives is digital format, we are pleased to offer hard drive shredding. Erasing disks isn't adequate anymore. Cyber criminals can easily restore information from hard disk drives and other electronic media. Old hard drives need to be physically destroyed to be sure your information is no longer accessible. Call the security experts at IDSAutoshred to learn more about our HDD shredding service.
We are proud to be AAA Certified from The National Association for Information Destruction (NAID).
NAID AAA Certification verifies the qualifications of certified information destruction providers through a comprehensive scheduled and unannounced audit program. Learn how we can help you save money with our effective document shredding plans.
We Value Our Customers!
We're here to help your business and personal assets through efficient processes, mobile technology, & great customer service. We offer 10% discount in your initial shred.
Our goal is to provide excellent customer satisfaction using high technology and good old fashion customer care.
Peter Levitt, CEO, IDSAutoshred