IDSAutoshred provides reliable paper shredding and document destruction services in Manchester, NJ. Call us and to book your shredding job today.
For reliable document shredding in Manchester, New Jersey, trust the professionals at IDSAutoshred. We offer convenient, on-site paper shredding services Monday through Friday. Businesses and residents of Manchester NJ can now benefit from our confidential paper shredding service. To schedule your appointment, simply call our office at 877-886-4732.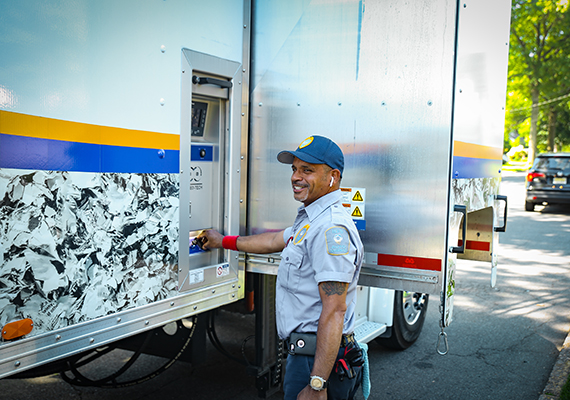 Mobile Shred Company Serving Manchester NJ
Mobile shredding means that we come to you.  Our mobile shredding truck comes directly to your Manchester location for secure document destruction.  Our trained technicians will take care of the entire document destruction process.  We will collect your paper records and transfer them to one of our large shredding carts.  From there, we tip the bin into our shredding truck for immediate destruction. For large volume purges, we repeat this process until all the material has been shredded.  For complete peace of mind, we welcome our customers to watch this process firsthand.  Upon completion, we will provide a Certificate of Destruction for your records.
Bulk Shredding Solutions
Is your Manchester business planning for an annual shredding purge?  Annual shredding is an important for reducing your exposure and liability.  Don't leave sensitive paper files hanging around the office for longer than necessary.  Destroy these documents before they fall into the wrong hands.  Bulk shredding helps you comply with local privacy laws.  As a bonus, you'll save storage space that can be used more productively.  For 1-time bulk shredding, contact the experts at IDSAutoshred.  There is no quantity to large or small.  We'll work with you to collect your sensitive documents and ensure confidential disposal.
Residential Shredding is Now Available in Manchester Township
If you are fed up with feeding 1 sheet at a time into your personal shredding machine, then call IDSAutoshred. Our industrial shredding equipment can destroy hundreds of pounds of paper files in a matter of minutes – including staples and paper clips. For the ultimate in security, your documents are shred into cross-cut pieces and mixed with hundreds of other boxes worth of shredded paper bits. Compare this level of security to the typical, home-office, strip-cut shredder. Don't feed another sheet into your home shred machine! Call IDSAutoshred to schedule our mobile shred truck to visit your home or apartment.
IDSAutoshred proudly offers shredding throughout Manchester Township including: Cedar Glen Lakes Cedar Glen West, Crestwood Village, Leisure Knoll, Leisure Village West, Pine Lake Park, Pine Ridge at Crestwood, and Whiting NJ.
We are proud to be AAA Certified from The National Association for Information Destruction (NAID).
NAID AAA Certification verifies the qualifications of certified information destruction providers through a comprehensive scheduled and unannounced audit program. Learn how we can help you save money with our effective document shredding plans.
We Value Our Customers!
We're here to help your business and personal assets through efficient processes, mobile technology, & great customer service. We offer 10% discount in your initial shred.
Our goal is to provide excellent customer satisfaction using high technology and good old fashion customer care.
Peter Levitt, CEO, IDSAutoshred