IDSAutoshred provides reliable paper shredding and document destruction services in Long Branch, NJ. Call us and to book your shredding job today.

Yes, we send our mobile shredding trucks to the beach! From Long Branch to Ocean Port to Monmouth Beach, we have you covered. IDSAutoshred comes right to your front door to collect and destroy your sensitive paper records. We offer a variety of shredding options for New Jersey businesses and consumers. Scheduling an appointment is easy! Just call or click. Our knowledgeable staff will be pleased to book your next shredding service.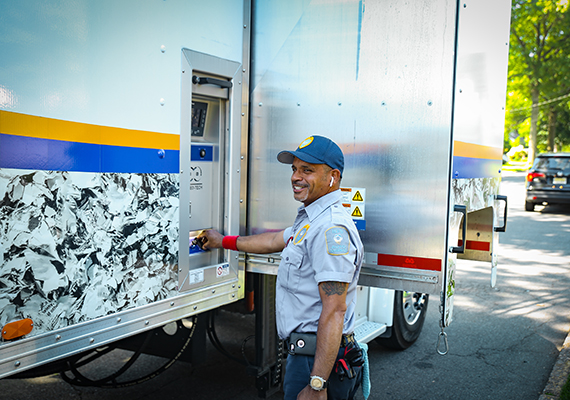 Confidential Shredding in Long Branch, New Jersey
IDSAutoshred provides highly confidential destruction services to companies and residents across Monmouth County, New Jersey. Our approach promises Long Branch customers a timely and trusted experience every time. We follow a strict chain of custody, reflecting the highest standards in the industry. Our staff are trained to ensure your records are confidently disposed of in accordance with state privacy legislation. Rest assured, your information will be securely destroyed with IDSAutoshred.
Why Outsource Your Paper Shredding?
Well, for starters, it's easier than you might think and will save you time and frustration. One of the problems with an in-house shredding machine is reliability (or lack thereof). "Strike Two" is that most shredders are strip-cut, which is not as secure as crosscut. And "Strike Three" is that shred machines have low throughput, so you waste productivity with staff standing in front of a noisy, slow machines. In fact, your staff may be inclined to toss confidential documents in the recycling bin, leaving you at risk of a privacy breach. Clearly, it is not worth the risk and aggravation to shred your own documents. Outsource to the professionals at IDSAutoshred.
On-Site Shredding in Long Branch
On-Site means we come to you. Whereas "off-site" means a shredding company takes away your documents for shredding at their location. It's not worth the risk to transport your private documents down the freeway for eventual shredding at some warehouse. Our philosophy is that on-site offers the best protection and peace of mind. We welcome our clients to watch the shredding process firsthand. Our mobile shredding trucks destroy your paper files while you watch. We even have a video monitor so you can watch your paper as it enters (and exits!) the industrial cutting blades. It's the only way to be 100% sure your documents have been properly handled and shredded.

Why Choose IDSAutoshred in Long Branch?
Dependable, Reliable, and Secure
Protect your Privacy
On-Site shredding at your location
We're a local, New Jersey based company
Destroy paper and hard drives
We are proud to be AAA Certified from The National Association for Information Destruction (NAID).
NAID AAA Certification verifies the qualifications of certified information destruction providers through a comprehensive scheduled and unannounced audit program. Learn how we can help you save money with our effective document shredding plans.
We Value Our Customers!
We're here to help your business and personal assets through efficient processes, mobile technology, & great customer service. We offer 10% discount in your initial shred.
Our goal is to provide excellent customer satisfaction using high technology and good old fashion customer care.
Peter Levitt, CEO, IDSAutoshred