IDSAutoshred provides reliable paper shredding and document destruction services in Long Beach, NJ. Call us and to book your shredding job today.
From Beach Haven to Surf City, and Barnegat Light to Harvey Cedars, IDSAutoshed provides a professional document shredding service throughout Long Beach Township, New Jersey. We are a security-minded team of trained professionals providing secure information destruction services. Our mobile shredding service is perfect for both commercial and residential customers all along Long Beach. To schedule our document destruction service, simply schedule an appointment by calling our Ocean County office at (877) 886-4732.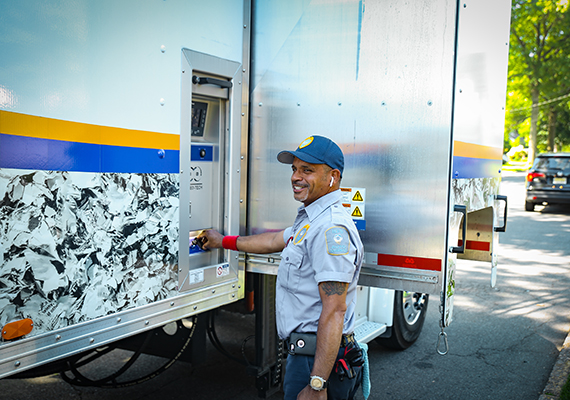 One-Time, Purge Shredding in Long Beach, New Jersey
Businesses and residents of Long Beach need to keep sensitive documentation away from prying eyes.  Companies can face hefty fines for a data breach whereas residents are vulnerable to identity theft.  If you have a stockpile of confidential papers ready for disposal, IDSAutoshred offers a solution for 1-time shredding.  We will send a mobile shredding truck to securely dispose of your paper records.  Regardless of your quantity, we will shred all your material before we leave your premises.  There is no need to remove file folders and paper clips, our industrial shredding equipment can destroy nearly anything.  After every shred job, we issue a certificate of destruction as proof of compliance.  Scheduling your next shredding project is easy, just contact the experts at IDSAutoshred.
Regularly Scheduled Document Shredding
Annual purges may not be enough for many Long Beach businesses.  To maintain compliance with New Jersey state privacy laws, you need to demonstrate an ongoing commitment to privacy.  The best way to accomplish this is by capturing day-to-day paper records with a regularly scheduled shredding program from IDSAutoshred.  We start by placing a  free container in your office.  Our most popular option is a locking console, that suits any office décor.  We'll work with you to establish a servicing frequency that makes sense for your paper volume.  Your staff fill the container with files during a typical workday and our mobile shred truck shows up like clockwork to securely destroy the contents of the console.  To explore if this is the right fit for your office, simply call and speak with one of our knowledgeable representatives.
Highest Level of Shredding Security
Did you know our shredding services meet NSA requirements?  Furthermore, we have attained the highest level of certification from the National Association of Information Destruction.  We are mandated to follow industry best practices in the secure handling and disposal of your informational assets.  As such, we can expect unannounced physical audits from the association to ensure that we are meeting all compliance guidelines.  Our commitment to security extends to all customers, large and small.  Trust IDSAutoshred for the maximum level of security for your document destruction requirements.
We are proud to be AAA Certified from The National Association for Information Destruction (NAID).
NAID AAA Certification verifies the qualifications of certified information destruction providers through a comprehensive scheduled and unannounced audit program. Learn how we can help you save money with our effective document shredding plans.
We Value Our Customers!
We're here to help your business and personal assets through efficient processes, mobile technology, & great customer service. We offer 10% discount in your initial shred.
Our goal is to provide excellent customer satisfaction using high technology and good old fashion customer care.
Peter Levitt, CEO, IDSAutoshred