IDSAutoshred provides reliable paper shredding and document destruction services in Little Egg Harbor, NJ. Call us and to book your shredding job today.
In Ocean County, Little Egg Harbor businesses and residents count on professional shredding services from New Jersey's own IDSAutoshred. Our service is ideal for the secure disposal of paper-based documents and files. Did you know that we also shred hard drives and other electronic media including discs and backup tapes? Our commitment to privacy and security have made us a trusted partner in the information destruction industry.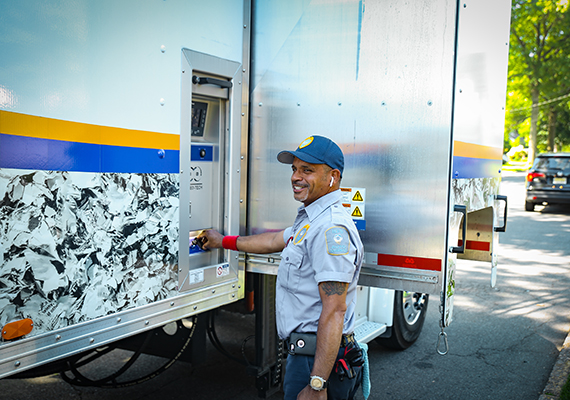 Shredding for Business
Companies and organizations throughout Little Egg Harbor Township have a local option for document destruction. Support the local business community with a shredding company based right here in Ocean County, New Jersey. IDSAutoshred offers two main services for confidential shredding. Some businesses may only require periodic shredding once or twice per year. We are pleased to accommodate bulk shredding on an as-needed basis. However, for offices requiring on-going shredding on a regular basis, we offer a scheduled service every week, two weeks, or four weeks. Speak to one of our shredding experts to determine the right mix of containers, placement and servicing frequency.
Shredding for Residents
IDSAutoshred is delighted to extend our service to homeowners of Little Egg Harbor. We appreciate that residents also have private files and documents that need secure shredding. These documents typically include receipts, prescriptions, invoices, utility bills, and tax returns. Any piece of paper with your personal information needs to be properly disposed of. Call us to schedule a mobile shred truck to come directly to your home or apartment. We will shred your files while you watch. Feel free to take pictures of the process or watch our live video monitor as your paper is being shredded.
Our Commitment to the Environment
We do our part to preserve the natural beauty of Little Egg Harbor.  Not only do we collect and remove paper-based files and documents, but we recycle every scrap of paper along the way.  All shredded paper is diverted away from landfill.  Instead, we send the material directly to a pulp mill for recycling.  The paper is recycled into new paper products like paper towel, tissue, and cardboard packaging.  Don't let your documents end up in the trash, call IDSAutoshred for secure shedding and environmentally friendly recycling.
High Security Shredding
Our mobile shredding service has attained AAA certification from National Association of Information Destruction (NAID).  This means that we have met a stringent set of criteria for the safe handling and disposal of information.  We follow best practices laid out by the industry and are routinely audited on our procedures.  We are even subject to surprise audits and ride-alongs by NAID auditors to ensure we are meeting all guidelines.  We even meet National Security Agency shredding specifications.  Trust IDSAutoshred for your data compliance.
We are proud to be AAA Certified from The National Association for Information Destruction (NAID).
NAID AAA Certification verifies the qualifications of certified information destruction providers through a comprehensive scheduled and unannounced audit program. Learn how we can help you save money with our effective document shredding plans.
We Value Our Customers!
We're here to help your business and personal assets through efficient processes, mobile technology, & great customer service. We offer 10% discount in your initial shred.
Our goal is to provide excellent customer satisfaction using high technology and good old fashion customer care.
Peter Levitt, CEO, IDSAutoshred