IDSAutoshred provides reliable paper shredding and document destruction services in Lakewood, NJ. Call us and to book your shredding job today.
IDSAutoshred has a fleet of shredding trucks operating throughout Ocean County NJ. Our mobile shred trucks will come directly to your Lakewood home or business to destroy your confidential paperwork. With identity theft on the rise, it is more important than ever to shred any records with personally identifiable information. For businesses, shredding is an effective way to stay compliant with state privacy laws. To schedule a mobile shred truck to visit your home or office, simply call (877) 886-4732 and speak with a service representative. We will be pleased to book a secure shredding appointment for you.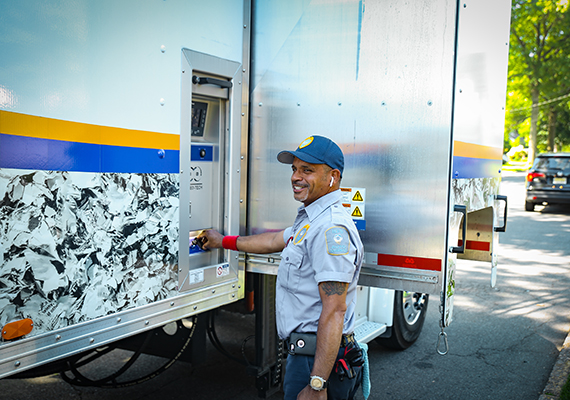 Witnessed Paper Destruction
Since paper shredding takes place at your premises, you can witness your sensitive documents being shredded.  Our state-of-the-art shredding trucks come directly to your home or office in Lakewood.  All paper files are destroyed before our truck leaves your location.  Each shred truck has a video display so you can watch the shredding equipment within the truck during the shredding process.  We welcome customers to watch the entire process.  It's reassuring to know all our clients are given a Certificate of Destruction, upon completion.  This important record confirms your documents have been destroyed beyond recognition.
On-Going, Scheduled Shredding in Lakewood Township
If your business needs shredding on a regular basis, then consider our scheduled shredding program.  We supply secure, lockable containers at no charge.  The bins are placed throughout your office and shredding is scheduled on a weekly, bi-weekly, or 4-week basis.  The representatives at IDSAutoshred will work with you to determine the correct bin size, quantity, placement and schedule.  Scheduled shredding is an important part of maintaining compliance with privacy legislation.  It has never been easier to ensure your documents are kept private, just call our experts to get started.
Residential Shredding in Ocean County
Identity thieves look for any scrap of paper with your name, phone number, or billing information that may have been discarded in the trach. Protect against identity theft by shredding all unused documents. Even if your quantity is low, we can send a mobile shred truck to your home. We even accept drop-offs at our facility in Ocean County, New Jersey.

One-Time, Purge Shredding Service in Lakewood NJ
If you have a backlog of old documents that are ready to be destroyed, our 1-time shredding service is a perfect solution. Our industrial shredding equipment can handle any volume of paper for bulk shredding. We will transfer the contents of your boxes and cabinets into one of our secure, locking carts. From there, we transfer the material to the shred truck where it is destroyed in a matter of minutes. For a secure shredding in Lakewood New Jersey, just call IDSAutoshred when you are ready to dispose of your confidential records.
We are proud to be AAA Certified from The National Association for Information Destruction (NAID).
NAID AAA Certification verifies the qualifications of certified information destruction providers through a comprehensive scheduled and unannounced audit program. Learn how we can help you save money with our effective document shredding plans.
We Value Our Customers!
We're here to help your business and personal assets through efficient processes, mobile technology, & great customer service. We offer 10% discount in your initial shred.
Our goal is to provide excellent customer satisfaction using high technology and good old fashion customer care.
Peter Levitt, CEO, IDSAutoshred