IDSAutoshred provides reliable paper shredding and document destruction services in Lakehurst, NJ. Call us and to book your shredding job today.
For secure document shredding in Lakehurst, look no further than New Jersey's own IDSAutoshred. We are proud to offer paper shredding services throughout Ocean County, New Jersey. Ensure your paper documents are disposed of properly by scheduling a convenient appointment. Our industrial shredding equipment can handle any volume of paper. Our trained service technicians adhere to best industry practices for complete confidentiality. To schedule shredding service, just call us at 877-886-4732.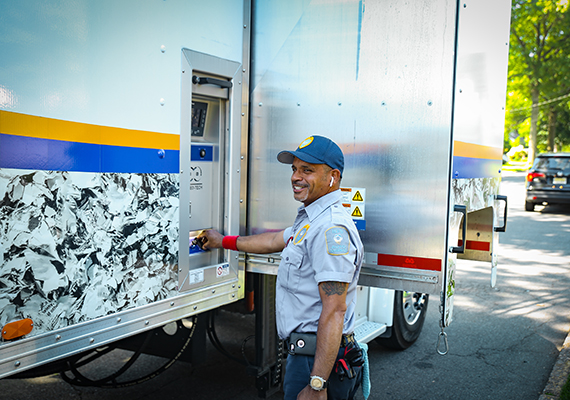 Mobile Shred Trucks in Lakehurst NJ
Our shredding service is on-site, meaning we dispatch a specialized shred truck to visit your location.  All shredding is completed before we leave your Lakehurst property.  Our fleet of shred trucks are the most advanced in the industry.  Every part of the process can be monitored by our clients.  For example, you can watch your documents being fed directly into the high-capacity shredder.  Our trucks even feature a video monitor on the side of the vehicle so you can watch what is happening inside the shredding compartment.  You will see (and hear) your files being destroyed right before your eyes (and ears).
1-Time Shredding Solutions
What if you only require shredding once? Or once per year? No problem, IDSAutoshred will be pleased to accommodate 1-time shredding for your Lakehurst office or organization. Simply accumulate your boxes, bags or stacks of paper. There is no need to remove staples, paperclips, or file folders. Once you are ready, place a call to our office to coordinate a convenient date and time. On shredding day, you can expect our experienced driver to show up and help through the process. We will transfer your material to our oversized, locking cart. Next we transfer to the awaiting shred truck where your documents are destroyed before your eyes. For large purges, we repeat the process until all your files have been safely destroyed. You can expect us to issue a Certificate of Destruction for your records. For your next one-time purge, simply call the experts at IDSAutoshred.
Residential Shredding Now Available in Lakehurst
Shredding is not just for large businesses. We are proud to offer the highest level of data security for our residential customers too. If you operate a home-based business, you likely have accumulated a sizeable quantity of confidential paperwork. Even individual homeowners often have years of tax records and old bills that require proper disposal. Don't be a victim of identity theft. Schedule a home visit from our mobile shred truck. IDSAutoshred will come directly to your home, condo, or apartment to shred your paper files.

We are proud to be AAA Certified from The National Association for Information Destruction (NAID).
NAID AAA Certification verifies the qualifications of certified information destruction providers through a comprehensive scheduled and unannounced audit program. Learn how we can help you save money with our effective document shredding plans.
We Value Our Customers!
We're here to help your business and personal assets through efficient processes, mobile technology, & great customer service. We offer 10% discount in your initial shred.
Our goal is to provide excellent customer satisfaction using high technology and good old fashion customer care.
Peter Levitt, CEO, IDSAutoshred