IDSAutoshred provides reliable paper shredding and document destruction services in Keyport, NJ. Call us and to book your shredding job today.
On-site, document shredding services are now available in the borough of Keyport, New Jersey. IDSAutoshred has a network of mobile shred trucks operating within Monmouth County, including Keyport.  Our destruction services guarantee security and confidentiality.  It is also easy and affordable to arrange for our mobile shredding truck to visit your home or office.  Just contact our knowledgeable representatives to learn more about our process and schedule an appointment.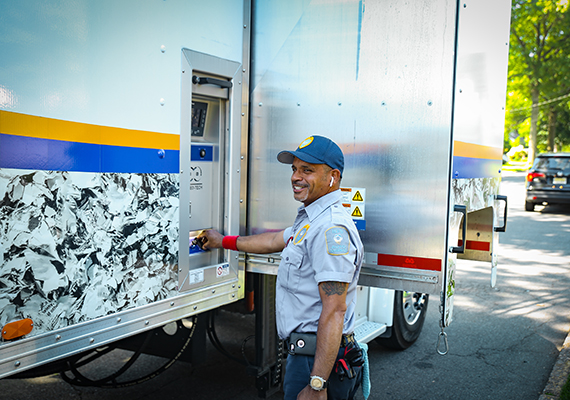 Why is Shredding Important?
Reduce your risk of a privacy breach by shredding unwanted files and documentation.  Homeowners face risks of identity theft while businesses are vulnerable to a data breach and significant financial penalties if their customer's information is exposed.  A carelessly discarded document could cause a great deal of trouble.  Any paper with names, addresses, phone numbers, or any other personal information should be securely handled and destroyed once it is no longer needed.  Our on-site shredding service is a convenient solution to get rid of your stockpile of old documents.  Call our New Jersey office to book your next service.
On-Going Shredding for Keyport Businesses
Any business in Keyport that produces paper, needs to ensure compliance with New Jersey Privacy Laws.  Additionally, certain industries are subject to strict regulations including FACTA and HIPAA laws.  The best way to ensure compliance is with a regularly scheduled shredding service.  Our ongoing program is easy to set up.  Together we'll select the right size and quantity of security containers for your office.  These bins are free of charge.  We'll place them at strategic locations throughout your office.  Typically, we place the bins near paper-production sources like network printers and photocopiers.  Your staff can discard their day-to-day paperwork in the locked console.  Our uniformed driver will arrive according to a pre-arranged schedule to empty the contents and shred the files.  For maximum security, all shredding takes place at your location, before our driver leaves your premises.
Home-Based Shredding in Keyport NJ
Document shredding isn't just for corporations and large businesses. Homeowners often have an accumulation of sensitive material including years of old tax records, utility bills or home-based business records. IDSAutoshred is pleased to offer our mobile shredding service to residents of Keyport. We will drive directly to your home or apartment and shred your documents while you watch. Based on your anticipated quantity of paper, we will provide an instant quotation over the phone. Just call to speak with one of our shredding experts.

Environmentally Friendly Document Destruction
With a nickname like "The Pearl of the Bayshore", we believe in keeping Keyport beautiful! It's comforting to know all shredded paper is fully recycled. After our mobile shred trucks return from their daily routes, we offload the shredded paper and prepare to send it to the pulp mill. The processing facility removes the staples and paperclips, then "de-inks" the toner from the pages. The resulting pulp is then transformed into new paper products such as cardboard, paper towel or tissue. As a steward of the environment, IDSAutoshred is committed to "green" business practices – especially paper recycling!

We are proud to be AAA Certified from The National Association for Information Destruction (NAID).
NAID AAA Certification verifies the qualifications of certified information destruction providers through a comprehensive scheduled and unannounced audit program. Learn how we can help you save money with our effective document shredding plans.
We Value Our Customers!
We're here to help your business and personal assets through efficient processes, mobile technology, & great customer service. We offer 10% discount in your initial shred.
Our goal is to provide excellent customer satisfaction using high technology and good old fashion customer care.
Peter Levitt, CEO, IDSAutoshred