IDSAutoshred provides reliable paper shredding and document destruction services in Hammonton, NJ. Call us and to book your shredding job today.
Our mobile shred trucks regularly visit Hammonton and surrounding towns throughout Atlantic County, New Jersey.  Mobile means we come directly to your office or residence.  For maximum security, all paper is shredded curbside, before our mobile shred truck leaves your property.  Our fleet of shred trucks are industrial strength and can shred your files in a matter of minutes.  It's easy to make an appointment, just call and schedule a convenient time for our truck to arrive at your location.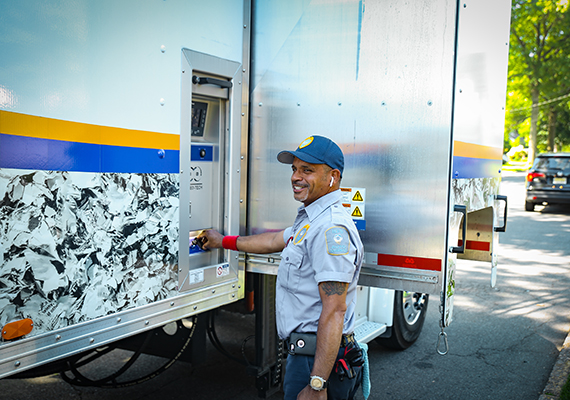 Residential Shredding
Traditionally, shredding services have been for businesses only.  However, IDSAutoshred now offers home-based shredding for residents of Hammonton NJ.  If you have been stockpiling years' worth of confidential paperwork, then it's time to schedule a visit from the security professionals at IDSAuoshred.  One call from you and we'll dispatch one of our mobile shredding trucks to your home, condominium, or apartment.
Affordable Shredding
We get it.  You have paper to destroy and you don't want to pay a fortune.  You'll be surprised to learn how reasonably priced our mobile shredding service is.  Based on your quantity of paper, we will quote a fair and transparent price in advance.  With your approval, we'll come right to your location and destroy your files before we leave.  It is easy to book our shredding service.  By the way, have you seen our shredding coupons?  New customers can take 10% off their first shred.  And if you know somebody that needs shredding, we offer a 10% referral fee.  Shredding in Hammonton has never been so affordable.
Business Shredding
Hammonton businesses have several options for safely disposing of paper records. Many businesses arrange for an annual, bulk shredding to destroy old accounting records. We will be pleased to visit you for a 1-time purge. Another popular option is for regularly scheduled shredding service. We can arrange to visit you on a pre-arranged schedule every week, 2-weeks, or 4-weeks. Best of all, we supply free, locking collection bins for your staff.

Privacy Compliance
Your business needs to comply with New Jersey State Privacy Laws – or face hefty fines in the event of a privacy breach.  Furthermore, the financial industry needs to comply with FACTA regulations, and the healthcare industry needs to comply with HIPAA regulations.  Protect your business with confidential shredding service that complies with all federal, state, and industry laws and rules.  We even shred in accordance with NSA guidelines.  IDSAutoshred has achieved the highest possible certification rating from the National Association of Information Destruction.  We take privacy very seriously.  By scheduling your shredding with a reputable vendor, you ensure your privacy compliance.
We are proud to be AAA Certified from The National Association for Information Destruction (NAID).
NAID AAA Certification verifies the qualifications of certified information destruction providers through a comprehensive scheduled and unannounced audit program. Learn how we can help you save money with our effective document shredding plans.
We Value Our Customers!
We're here to help your business and personal assets through efficient processes, mobile technology, & great customer service. We offer 10% discount in your initial shred.
Our goal is to provide excellent customer satisfaction using high technology and good old fashion customer care.
Peter Levitt, CEO, IDSAutoshred