IDSAutoshred provides reliable paper shredding and document destruction services in Freehold, NJ. Call us and to book your shredding job today.
We take privacy very seriously. For secure file shredding services in Freehold NJ, trust the experts at IDSAutoshred. Our staff are trained in privacy procedures and protocol to keep your information safe. To be 100% certain your documents have been destroyed, we welcome our clients to witness the shredding process firsthand. Our fleet of high-tech mobile shred trucks destroy your documents while you watch. To book your shredding service in Freehold, just call IDSAutoshred at (877) 886-4732.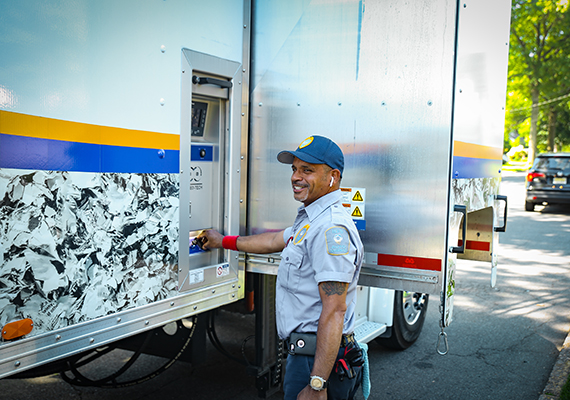 Freehold Business Shredding
Every business has documents to shred.  Some only require annual service while other companies need regular weekly or monthly service.  Either way, we have you covered.  We work with organizations large and small to help you comply with New Jersey State Privacy Laws as well as federal legislation including HIPPA and FACTA.  For 1-time shredding, it's as easy as pointing to the banker boxes of paper and we start shredding.  For on-going shredding, we will deliver a locking collection container at no charge.  Your staff fill the bin with day-to-day paperwork and our mobile shred truck arrives according to a pre-arranged schedule to perform on-site document destruction.  To inquire about our service and receive a quotation, just call or send us a message.
Residential Shredding in Freehold
Shredding isn't just for big business.  Freehold Township residents also have sensitive papers that should be disposed of properly.  Any paper with your personal information should be shredded so it doesn't fall into the wrong hands.  We will be happy to dispatch one of our mobile shred trucks to your house or apartment.  It's reassuring that all shredding takes place at the curbside while you watch.  You'll be pleasantly surprised how economical and efficient our service is.  Call today for an on-the-spot quotation.
Shredding Made Easy
Scheduling an on-site visit from our mobile shred truck is easy. Simply contact our office and speak with our knowledgeable staff. Based on your quantity of paper, you will receive an instant quote. You'll find our pricing is affordable and transparent. With your approval, you can expect our shredding truck to arrive on the agreed date. All you need to do is gather your paper together in one spot. There's no need to remove staples, paperclips, or file folders since our industrial equipment can handle it all. Our driver will transfer your material into a locking container. The container is lifted directly into the truck with an automated lift system. The paper is then dumped directly into the shredding mechanism. For your assurance, we welcome homeowners to watch the entire process. Upon completion, all residents receive a Certificate of Destruction as your proof that material has been securely shredded.

We are proud to be AAA Certified from The National Association for Information Destruction (NAID).
NAID AAA Certification verifies the qualifications of certified information destruction providers through a comprehensive scheduled and unannounced audit program. Learn how we can help you save money with our effective document shredding plans.
We Value Our Customers!
We're here to help your business and personal assets through efficient processes, mobile technology, & great customer service. We offer 10% discount in your initial shred.
Our goal is to provide excellent customer satisfaction using high technology and good old fashion customer care.
Peter Levitt, CEO, IDSAutoshred