IDSAutoshred provides reliable paper shredding and document destruction services in Forked River, NJ. Call us and to book your shredding job today.
IDSAutoshred provides secure shredding service throughout Lacey Township including Forked River NJ. Forked River may have a quiet, small town charm but resident and businesses still need to keep their information safe and secure. We help the local community by providing confidential paper shredding services. This allows businesses to maintain compliance with New Jersey state privacy laws and residents can safeguard against identity theft. Our service is straightforward to use. Just place a phone call to IDSAutoshred and we will arrange to send one of our specialty shredding trucks directly to your location. Call today!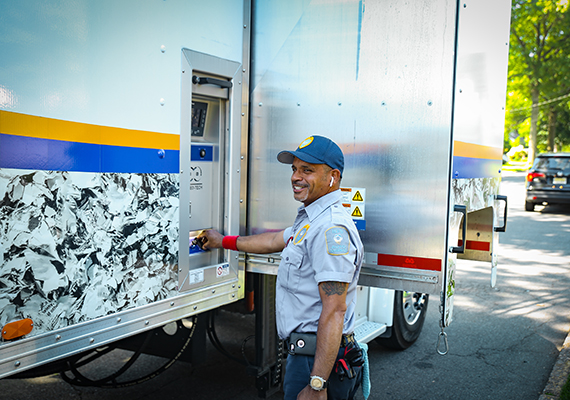 On-Site Shredding for Peace of Mind
Our shredding services are performed directly at your Forked River or Lacey Township location. Our industrial equipment can shred any volume of paper. Witnessing the shredding process is the only way to have 100% confidence that your paper files have been totally destroyed. Our state-of-the-art trucks even have video cameras in the interior. The cameras are aimed at the shredding equipment so you can view your documents passing through and being destroyed. You can be assured your documents will be destroyed before our trucks leave your Lacey location. And it's comforting to know all our clients receive a Certificate of Destruction for your records.
Business Shredding in Forked River
Businesses are under increasing scrutiny to keep records secure.  Fines for data breaches are increasing.  Don't risk your corporate information being exposed or falling into the wrong hands.  Businesses in Lacey have 2 options for secure document destruction.  The first option is for companies to schedule a 1-time purge, or clean-out.  This solution is ideal for businesses with a backlog of paper files that are ready for secure disposal.  The second option is regularly scheduled service.  This helps employees capture day-to-day documents that need to be safely disposed.  IDSAutoshred will provide a locking container at no charge.  We'll visit your office on a regular schedule (1-week, 2-weeks, or 4-weeks) to collect and destroy all paper within the bin.
Residential Shredding in Lacey
Homeowners in Lacey Township can order shredding services directly from IDSAutoshred. We will be pleased to come to your home, condominium or apartment. It is easy to schedule our service. Just call our New Jersey office and we will arrange to send one of our high-tech shred trucks to your residence. All you need to do is collect your paper files in one location. Our trained technicians will take care of the rest. The paper will be transferred to our on-board shredder and destroyed while you watch. This valuable service is perfect for destroying old tax records, pay stubs, and bank statements. Don't leave anything to chance, if your name or address appears on a document, then it needs to be securely shredded. Contact us today to learn more about our process and schedule your residential service.

Transparent Pricing
Expect our pricing to be fair and up front. Based on your anticipated quantity of paper, we will provide a quotation and schedule an appointment. We fully explain how our service works so you can choose the correct service for your needs. It has never been easier to arrange for shredding. Simply call our office at (877) 886-4732.
We are proud to be AAA Certified from The National Association for Information Destruction (NAID).
NAID AAA Certification verifies the qualifications of certified information destruction providers through a comprehensive scheduled and unannounced audit program. Learn how we can help you save money with our effective document shredding plans.
We Value Our Customers!
We're here to help your business and personal assets through efficient processes, mobile technology, & great customer service. We offer 10% discount in your initial shred.
Our goal is to provide excellent customer satisfaction using high technology and good old fashion customer care.
Peter Levitt, CEO, IDSAutoshred