IDSAutoshred provides reliable paper shredding and document destruction services in Eatontown, NJ. Call us and to book your shredding job today.
IDSAutoshred provides secure shredding for customers in Eatontown, Shrewsbury, Oakhurst and Tinton Falls. Our mobile shred trucks routinely travel the Garden State Parkway, throughout Monmouth County. We will be pleased to drop by your location to shred your paper documents or destroy your hard drives. We service homeowners, businesses, organizations, and institutions. If you generate paperwork, then be sure it is securely destroyed once it is no longer needed. Call the experts at IDSAutoshred to book your next shredding service.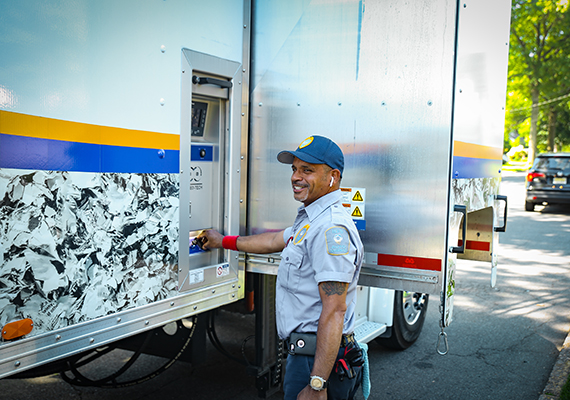 Eatontown Residential Shredding
Homeowners in the Borough of Eatontown now have a solution for on-site shredding.  IDSAutoshred is proud to extend our services to residents and individuals.  If you have collected a backlog of private files that are no longer needed, then consider having them professionally destroyed.  Examples of sensitive documents include tax records, receipts, prescriptions, and utility bills.  Any piece of paper with personably identifiable information, such as name, phone number address, Social Security Number, need to be destroyed.  This type of information is very attractive to identity thieves.  Call IDSAutoshred to arrange for curbside shredding at your home, condo, or apartment.
The Problem with Personal Shredding Machines
Aside from being noisy and slow, personal shredding machines are known for overheating and breaking down.  They may be adequate for a few pages here and there, but if you have a large quantity, a better solution is to call a professional shredding company.  Security is also a consideration since many machines only allow strip cut, instead of the more secure cross-cut style.  Even small offices with a more robust shredding machine should be concerned about compliance issues.  Many staff won't bother to use a machine since it is a nuisance.  Instead, they throw documents in the trash or recycling bin.  This leaves your small business vulnerable to a data breach.  If you are serious about protecting your privacy, then contact IDSAutoshred.
Mobile Shredding Trucks in Eatontown
Our industrial shredding equipment is built right into our shred trucks. We come to your Eatontown front door to collect and shred any volume of paper. We transfer the contents of your boxes or bags directly into one of our locking carts. The cart is wheeled over to the waiting truck and an automated system lifts the bin and deposits your paper right into the shredder. This way you can see and hear your paper files being destroyed! Your shredded paper is mixed with shredded paper from hundreds of other boxes. Then it is baled and sent directly to a pulp mill for recycling. Our process is completely secure. Best of all, it is quick and affordable. Call our knowledgeable staff for an instant quote on your shred job.

We are proud to be AAA Certified from The National Association for Information Destruction (NAID).
NAID AAA Certification verifies the qualifications of certified information destruction providers through a comprehensive scheduled and unannounced audit program. Learn how we can help you save money with our effective document shredding plans.
We Value Our Customers!
We're here to help your business and personal assets through efficient processes, mobile technology, & great customer service. We offer 10% discount in your initial shred.
Our goal is to provide excellent customer satisfaction using high technology and good old fashion customer care.
Peter Levitt, CEO, IDSAutoshred