IDSAutoshred offers reliable, customizable document destruction and paper shredding services in Cherry Hill, NJ. Call us to book your next shredding job!
At IDSAutoshred, there`s nothing more important to us than the security of your information at every stage of the shredding process. After all, a single misplaced sheet of paper could signal a massive breach of data. That`s why we take such pride in offering on-site shredding services, where you can watch the entire process right from your front door in Cherry Hill. We offer solutions for both one-time office purges and recurring, scheduled shredding services. Our trucks come to you and our crew takes care of the rest, allowing your day to continue without interruption to your own priorities. At the same time, you`ll be able to enjoy the peace of mind that comes from knowing your sensitive documents are being destroyed by a fully trained and industry certified service. At no point will your documents ever be at risk for accidental exposure, and when the process is complete, we`ll responsibly recycle the remnants.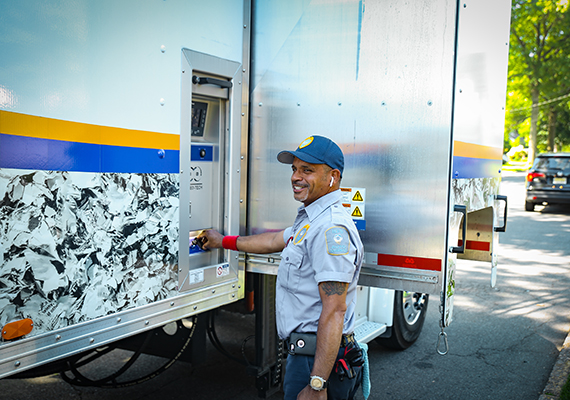 Why Document Shredding is Essential
The moment your garbage is placed into a dumpster or on the curb for pickup, you lose control over where it goes – and who has access to what`s inside. Many people know that shredding is important, but instead of making sure it`s done correctly, they may instead designate an employee and an office shredder to try and put a dent in the mountain of documents to be disposed. This can cost them valuable time and money, especially since single-strand shredding isn`t effective at preventing documents from being reconstructed, leading to a waste of resources. Industry-standard document shredding is the only method that is 100% guaranteed to prevent your papers from ever being recovered or reassembled.
In Cherry Hill, there are plenty of folks who regularly handle documents with personal or confidential information as part of their day-to-day tasks at work. Computer reports, internal memos, credit histories, and even old or unused resumes all need to be shredded to protect the information they contain. If they aren`t, or they`re not thoroughly destroyed, there`s nothing standing in the way of thieves who are more than willing to dig through trash bags to get to your valuable data. In 2018, Forbes reported that identity thieves stole over $107 billion dollars in only six years. That`s not even including damages to reputation or the legal fees that could land squarely on the shoulders of your company in the event of a data breach.
There`s no need to risk your information. It`s quick, easy, and affordable to arrange professional document destruction services. We`ll take care of all the heavy lifting and the shredding – all you must do is gather the documents you want shredded. They`ll be thoroughly destroyed past the point of recovery before we even leave your parking lot, and before we go, we`ll issue you a Certificate of Destruction for your records to prove beyond any shadow of doubt that you have complied with industry standards regarding the safe destruction of information.
IDSAutoshred Meets All Document Shredding Requirements
You`ll see a little badge on our site that says we`re NAID AAA Certified. NAID stands for the National Association for Information Destruction, and their certification means that we`ve already done the hard work of making sure every single step of our process, even before the trucks roll out, is in full compliance with state and federal legislation regarding the safe disposal of information. There isn`t a member on our team who hasn`t been thoroughly vetted, checked, and trained, and we maintain a strict chain of custody over every piece of paper trusted to our care. Your documents will never, at any point, be put at risk for accidental exposure or misplacement. We shred your documents on-site, eliminating any chance of transportation mishaps on the way to a facility. In fact, if you have the time, you`re more than welcome to watch the destruction of your documents as it occurs.
Benefits of Choosing IDSAutoshred
Rest easy – we`re fully compliant with privacy laws and regulations for safe disposal of information.
Save time – just collect your documents. You don`t even have to remove any staples, paper clips, or binders.
Complete security – if you`re gathering documents over time, we offer locked consoles for you to use, and on shredding day, we`ll personally see to it that each and every leaf of paper is thoroughly shredded.
Save effort – let your employees continue to do what they do best while we handle the shredding at a professional grade.
No pressure to commit – we know that you want to make the smartest decision for your Cherry Hill company, so we offer a 10% discount for new customers who want to give us a try.
Eco-Friendly – we recycle every bit of paper that we shred.
On-Site Shredding: The Popular Choice for Flexibility and Security
What better way to guarantee the total and complete destruction of your documents than to personally verify their shredding? Our on-site shredding service gives our Cherry Hill clients greater peace of mind while simultaneously eliminating the likelihood of lost or misplaced information. Your documents will be shredded while they're still on company property, and when we drive away, they will have been rendered completely unrecoverable. On-site shredding offers you the greatest amount of convenience and security, which explains why it's far and away our most popular service choice.
Scheduled Shredding: Lockable Containers for 100% Confidentiality
Some of our clients regularly deal with documents that need to be disposed securely. A one-time shredding service simply wouldn't be sufficient to handle the volume of papers they handle, so we offer regularly scheduled shredding services to integrate seamlessly with your normal work routine.
We'll provide you with locked bins or consoles, which can be placed wherever needed in your Cherry Hill office. Use them throughout your day to hold documents designated for shredding with full confidence that the locking mechanism will prevent any unauthorized access. When your shredding day arrives, our fully insured team members will collect the bins, shred the contents on-site, and return the bins to your office for continued use. If it's your last appointment, we'll take the bins back to our facility.
When deciding which console option would be the best choice for you, consider your budget, your available office space, and the volume of documents you expect to handle. If you're still unsure, don't worry – our staff is standing by to answer any questions you may have.

Office Friendly Consoles
Our 36" Console can hold up to 90 lbs of paper.
Need something smaller? Our 27" Console will hold up to 60 lbs of paper.
All consoles are designed to sit alongside and compliment your existing office furniture.
Robust Rolling Bins
Heavy-duty construction guarantees that these bins won't split or break under immense weight.
Our 65-gallon model can handle up to 180 lbs of paper.
Got more to shred? Our 95-gallon model holds up to 280 lbs of paper.
Shredding is a snap; we'll simply roll the bins to our truck, strap them in, and deliver the papers directly into the shredding machine.
At IDSAutoshred, we take pride in offering our clients the best in security and service, working with them during every stage of the process to make sure that they are confident in and satisfied with the shredding we provide. We've worked with every range of budget and schedule, and we're happy to help create the kind of custom shredding appointment that will best suit your needs.
To book a shredding service for your Cherry Hill business, or for more information on what we offer, call us today at (877) 886-4732 or get in contact with us online.