IDSAutoshred provides reliable paper shredding and document destruction services in Atlantic City, NJ. Call us and to book your shredding job today.
IDSAutoshred is all about safeguarding Atlantic City's information. We provide information destruction services up and down the boardwalk. Keep your private information private with proper end-of-life disposal. Whether paper files or hard drives, we ensure that your information is handled confidentially and destroyed beyond recognition. Call the experts at IDSAutoshred to arrange your next shredding job. Our services are timely, affordable and secure. You are just a phone call away from receiving a quotation and scheduling an appointment. Call (877) 886-4732.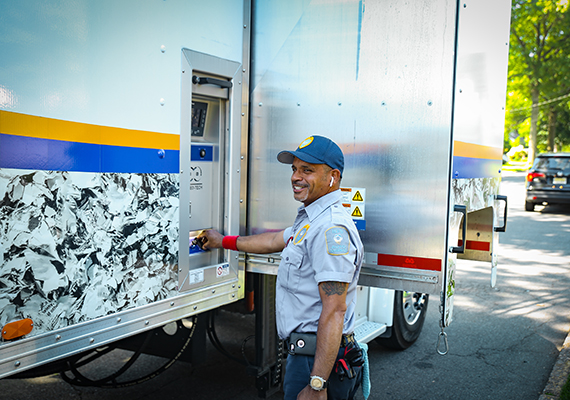 How Mobile Shredding Works
When our mobile shredding truck arrives at your Atlantic City location, you will meet our trained technician. Your paper records are placed into our locking container and rolled to our mobile truck. Our bins hold up to 300 pounds of paper! Next, the automated system lifts the bin and dumps the contents into the industrial shredding mechanism where the paper is destroyed. Our high-tech shred truck destroys your paper files in a matter of minutes. Best of all, we welcome our clients to watch the entire process from start to finish. Our trucks are equipped with a video monitor that allows you to view your files as they pass through the cutting blades and are reduced to confetti.
Environmentally Friendly Shredding in Atlantic City
Document shredding not only protects your private information but is friendly for the environment. It is comforting to know that all shredded paper is recycled. In fact, every ton of recycled paper is estimated to saves 17 trees. After document destruction is complete, we send all shredded paper directly to a pulp mill for processing. The resulting pulp is then transformed into new paper products such as paper towel, tissue, and cardboard. Partner with a shredding company that cares for the environment. Call IDSAutoshred to book your appointment.
We are proud to be AAA Certified from The National Association for Information Destruction (NAID).
NAID AAA Certification verifies the qualifications of certified information destruction providers through a comprehensive scheduled and unannounced audit program. Learn how we can help you save money with our effective document shredding plans.
We Value Our Customers!
We're here to help your business and personal assets through efficient processes, mobile technology, & great customer service. We offer 10% discount in your initial shred.
Our goal is to provide excellent customer satisfaction using high technology and good old fashion customer care.
Peter Levitt, CEO, IDSAutoshred