IDSAutoshred provides reliable paper shredding and document destruction services in Asbury, NJ. Call us and to book your shredding job today.
Yes, our mobile paper shredding trucks come to the beach! In fact, we shred at all Monmouth beachfront communities including Allenhurst, Asbury Park, Bradley Beach, Ocean Grove, Avon-By-The-Sea, and Belmar. Our document destruction service is easy to schedule and provides you with the highest degree of confidentiality. Call our New Jersey office at (877) 886-4732 to schedule your next service.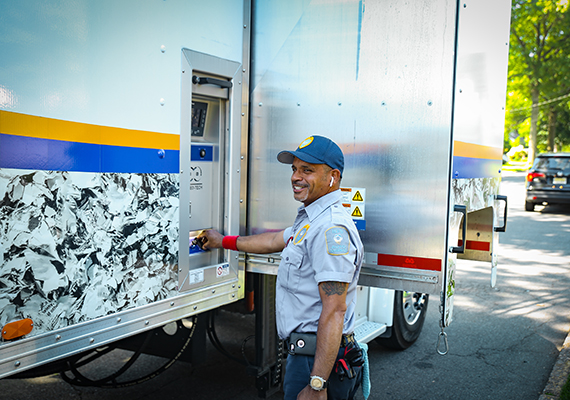 On-Site Shredding in Asbury Park NJ
"On-site" means we come to you.  It is the best way to be sure your confidential records have been destroyed.  All paper shredding occurs curbside while you watch.  Our industrial-strength mobile shred trucks can handle any volume of paper.  Our sophisticated equipment even has a video monitor so you can watch what is happening inside the truck.  You will see your paper as it enters and exists the cutting blades.  All customers receive a Certificate of Destruction as your proof that files have been destroyed beyond recognition.  Trust the shredding professionals at IDSAutoshred for your next on-site shredding project.
Shredding for Asbury Park Businesses
Organizations and companies in Asbury Park have a responsibility to maintain information privacy.  IDSAutoshred is pleased to provide several options to assist in your document compliance.  Many of our corporate clients schedule an "as-needed" shredding service.  This one-time service often occurs once or twice per year to destroy a sizeable quantity of accumulated paperwork.  Another popular option is to sign up for our regularly scheduled shredding service.  In this case, we provide a secure collection bin at no charge.  You only pay for the shredding service, whether weekly, biweekly or every 4 weeks.  Either way, IDSAutoshred has you covered for the confidential, on-site, document destruction.
Residential Shredding in Asbury Park NJ
As identity theft becomes more commonplace, residents of Asbury Park need to become more vigilant. Aside from safe online practices, people need to ensure that sensitive paperwork isn't discarded in the trash or recycling bin. Old fashioned "dumpster diving" can be very lucrative to identity thieves. Protect your personal information by scheduling a home visit from our mobile shred truck. We will dispatch a trained security expert to your home, apartment, or beach house. Since all shredding takes place roadside, you can be assured your material has been destroyed. In fact, we encourage homeowners to witness the process firsthand.

Hard Drive Shredding
A comprehensive information management policy accounts for both analog (paper) and digital (hard drives). Fortunately, paper isn't the only type of information we destroy. We also shred electronic media such as back-up tapes, DVD's, and hard disc drives. We believe that erasing discs isn't enough to prevent a security breach. Physical destruction is the only method to ensure your information has been rendered unreadable. Contact IDSAutoshred to schedule your next hard drive destruction.
We are proud to be AAA Certified from The National Association for Information Destruction (NAID).
NAID AAA Certification verifies the qualifications of certified information destruction providers through a comprehensive scheduled and unannounced audit program. Learn how we can help you save money with our effective document shredding plans.
We Value Our Customers!
We're here to help your business and personal assets through efficient processes, mobile technology, & great customer service. We offer 10% discount in your initial shred.
Our goal is to provide excellent customer satisfaction using high technology and good old fashion customer care.
Peter Levitt, CEO, IDSAutoshred